CNC Machining & Assembly of a Pilot Spool Valve Body & Bushing
CNC machining technology combined with multi-axis turning provides manufacturers with greater flexibility and reduced setup and labor costs in component production without sacrificing precision. At MF Engineering, we offer a range of CNC machining services such as:
Turning
ID/OD Threading
Drilling
Milling
Precision assembly 
MF Engineering made use of our CNC machining capabilities to complete an oil and gas industry customer request for the manufacture and assembly of a pilot spool valve body and bushing component. The following is a case study of that project.
Project Overview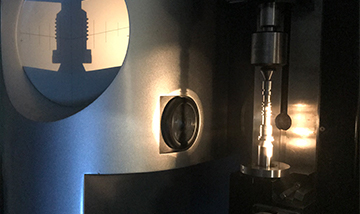 This project highlights our capacity to combine multiple complex machining operations into a single operation using multi-axis CNC machining. It showcases MF Engineering's ability to hold tight tolerances and finishes in drilling and honing operations as well as our capacity to perform minor assembly operations. This project involved a wide range of capabilities, such as:
CNC Multi-Axis Turning
Drilling & Milling
Precision Honing
Precision Assembly
Testing/Inspection (Tesa-Scan Optical Measurement System and High-Precision Bore Gage)
Capacity of 15,000-20,000 parts per year
Adherence to ISO 9001:2015 standards
Materials: 303 Stainless Steel
Technical Processes/Tolerances:
Pinch Turning
Gun Drilling
Cross-Drilling
Pocket Milling within +/- .0003 tolerance
Hex Milling
Internal & External Single-Point Threading
Precision Honing to +/- .00015 tolerance with <8 Micro-Inch finish
Machining and assembly of mating Bushing
We received this project because of a previously established relationship with this client. The budget requests and lead times requested were within our capabilities, as was the customer's request for making improvements to the overall quality of the component using our cutting-edge Swiss CNC machinery.
The Challenges
This project offered a challenge because it required performing multiple machining operations simultaneously. This capability was essential to reducing individual part cycle times and meeting annual volume requirements.
Additional challenges included consistently maintaining tight hole and finishing tolerances as well as development of a fixturing method for valve and bushing assembly. 
The Results
Our team—including our owner/president, manufacturing engineer/lead machinist, product manager, and our QA/QC manager—were able to produce the necessary results and meet client expectations. We programmed three tools within the cut—rough and finish (pinch) turning and gun drilling—to work simultaneously on the main spindle while adding a fourth tool to cut on the backside of the part using a sub-spindle.
MF Engineering met all tolerance and finish specifications, along with volume and budget requirements. Our customer was pleased with the results, which have led to additional project partnerships.
MF Engineering provides solutions to the machining and minor assembly challenges presented to us by new and existing customers. Our team is results-driven, using innovative approaches and industry leading equipment to meet unique challenges on a frequent basis. 
Contact us to find out what MF Engineering's capabilities can provide for your organization or request a quote from one of our team experts.